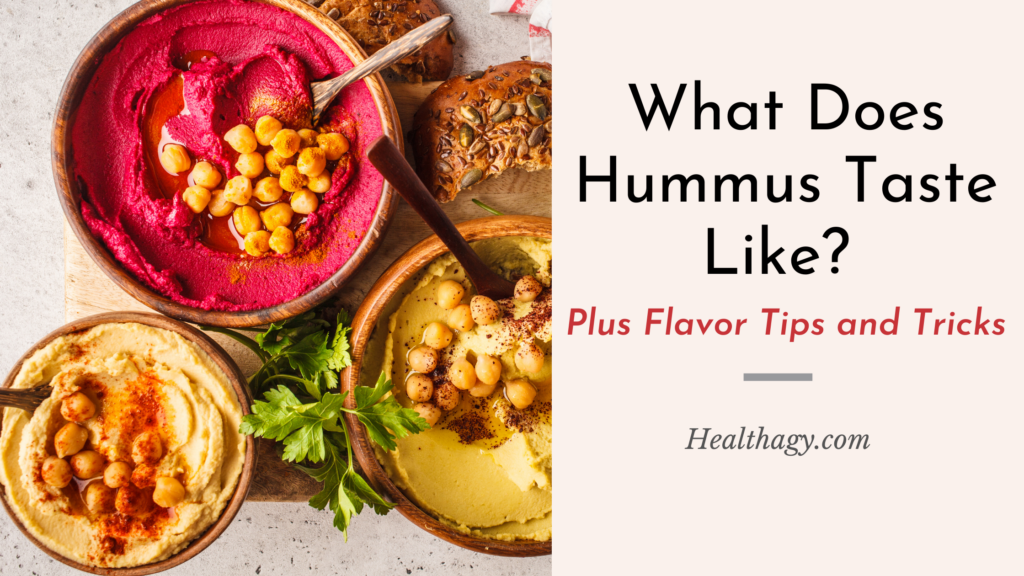 Hummus is an appetizer that can be common at parties and gatherings, leaving you wondering what all the hype is about? Let me fill you in and tell you why hummus may quickly become one of your favorite foods- from taste to its touting health benefits. There is surely a flavor of hummus that will win over even the pickiest of eaters!
What Does Hummus Taste Like?
A classic, plain hummus has a rich, creamy texture with a tangy, garlic melt-in-your-mouth flavor. Depending on the vegetables and spices used, hummus will take on a different flavor, whether bold and spicy or extra garlicky or earthy. While hummus is made with chickpeas, the taste is not strong, and the other ingredient drowned it out, so even if you're not a chickpea person, hummus may still be worth a try.
What is Hummus?
Hummus is often prepared as a creamy, delicious appetizer served alongside pita bread or fresh veggies for dipping. Traditional hummus spread is made by blending cooked chickpeas or garbanzo beans with olive oil, tahini (which is ground sesame seeds), lemon, garlic cloves, and salt.
It's common to create variations of the classic hummus recipe using other beans or legumes instead of chickpeas or adding in red peppers or other spices for a more bold flavor.
Health Benefits of Hummus
I always like to look at the health benefits of food as they can give us great incentives to take a step outside our comfort zone and try new food when we know it's good for our bodies!
There are many nutritional benefits to hummus. Hummus has become a popular dip and spread for health-conscious people, due to its myriad of nutritional benefits. Hummus is traditionally plant-based food, making it vegan and vegetarian-friendly, gluten-free, and dairy-free (although make sure to check the recipe or label for certainty).
Protein: Protein is essential for the growth, repair, and maintenance of cells, including your muscles, cartilage, skin, and hair. The main ingredient in hummus is chickpeas, and the great thing about chickpeas is that they are a good source of plant-based protein. Depending on the recipe, hummus has around 1 gram of protein per tablespoon, making it a good source of protein.
Anti-Inflammatory: Chickpeas, olive oil, and sesame seeds (tahini) have been shown to have anti-inflammatory properties. Anti-inflammatory foods are beneficial in combating chronic inflammation that can show up in many different health issues, from achy joints to acne to diabetes or cancer.
Vitamins and Minerals: Hummus contains a wide variety of vitamins and minerals, which is always important for great health. A few with bragging rights include manganese, copper, folate, magnesium, phosphorous, iron, potassium, zinc and vitamin B6.
Weight Loss: Hummus can help promote weight loss. Hummus is a great source of dietary fiber, which helps you feel full and promote good digestion and a healthy gut. Additionally, hummus is a good source of protein. Research has shown that protein can help boost metabolism and curb hunger.
*Heart Health: Extra virgin olive oil (EVOO) is a great source of heart-healthy fat. It helps to reduce LDL, the bad cholesterol, which contributes to heart disease. EVOO also helps manage blot clotting and lowers blood pressure, all of which impact heart health.
* Traditional hummus is made with olive oil, a beneficial heart-healthy fat; however, many popular store-bought brands use highly processed oils instead of or in addition to olive oil. Always carefully check the ingredients labels or make your own hummus to ensure you are getting high-quality ingredients for optimal nutritional benefits.
How to Eat Hummus
Hummus is perfect party food; whether it's a small dinner party for two or a lot of people, you can count on it to be a crowd-pleaser.
Hummus is also a great solo snack. And since you're taste buds are the only ones that need to approve, add it to your favorite food, use as a delicious spread on sandwiches and wraps or eat it as a dip with your favorite veggies or chips.
A few popular sidekicks for hummus are fresh vegetables such as carrot sticks, baby tomatoes, cauliflower, broccoli, or peppers. Hummus also pairs well with pita bread, crackers, pita chips, tortilla chips, or any other chips that your taste buds crave!
How to Make Hummus
You can make a simple and delicious hummus with just six ingredients blended together in about 5 minutes; chickpeas, tahini (ground sesame), lemon, garlic cloves, olive oil, and salt.
An easy homemade recipe for traditional plain hummus:
1 can of chickpeas/garbanzo beans (they are the same, just different names)
1-2 tbsp of tahini
1 garlic clove, minced
1 tbsp olive oil
¼ tsp salt
fresh lemon juice (from 1 lemon)
Instructions:
Drain beans and rinse
Add all ingredients except for the olive oil into a food processor or blender and blend.
Once ingredients are blended, scrape the sides
Slowly add in olive oil while blending
Hummus is ready to serve!
Hummus is best stored in an airtight container for up to five days in the fridge, or you can opt to freeze hummus for months (make sure to use a container that allows the hummus to expand when frozen).
How to Make Hummus Taste Better
There are so many different flavors and different types of hummus nowadays. If you're not digging a plain hummus, the good news is, you can add, subtract or customize ingredients to whatever your taste buds desire. The best hummus recipe is going to be the nutrition-filled one that keeps you coming back for more!
I like to compare hummus to a smoothie; you need a base and oil to make hummus, just like you need a liquid and solids (fruits or veggies) to make a smoothie.
Your base will likely be beans or legumes for hummus, although a vegetable may work too, and an oil. Always opt for a heart-healthy oil such as olive oil or avocado oil. Then have fun with it and customize it to your liking by adding whatever vegetables, spices, or maybe even some sweets (read below) that your taste buds desire.
Tahini: Tahini can be a yay or nay for people. People tend to love tahini or hate it. If you don't dig tahini or there's a taste you're not liking, and you know it's not the garlic flavor, it's probably tahini. If you are making your own hummus, you can leave the tahini out and add a tad bit more olive oil.
Beans: You can substitute chickpeas for a favorite bean, such as black beans or another legume of your choice.
Cumin: Cumin is a common spice to add to plain or vegetable hummus for an earthy, spicy kick.
Red peppers: Red pepper hummus tends to be a crowd favorite. Try adding roasted red peppers to a traditional hummus recipe for a smoky sweetness.
Cauliflower: Cauliflower has become one of the most versatile vegetables over the last few years, making a splash as a pizza crust. It seems to be found in everything nowadays- including cauliflower hummus! Many of the cauliflower hummus recipes you use cauliflower in place of beans are a great way to switch up this classic spread!
Beets: Beet hummus wins when it comes to eye appeal. That bright pink is just so delicious looking! Beets are a great, earthy healthy option to use as a substitute for chickpeas, especially when looking for a beautiful and colorful dip!
Last but not least, calling all picky eaters and sweet tooth's, this next one is for you!
Dessert: Say what? Yes, there are many flavors of dessert hummus! For those with a sweet tooth or those trying to lure picky eaters into eating healthier (through disguise tactics, of course), there is hummus for you and them too! Sweet hummus comes in many flavors, such as cookie flavors and chocolate hummus- which people claim tastes just like chocolate pudding! Just make sure to opt for natural sweeteners to keep it healthy.
There's nothing like being able to satisfy a sweet tooth with healthy foods that are rich in protein and nutrition.   Whatever kind of hummus your taste buds prefer, there is sure to be a flavor you will love!
Author Biography
Karla Kueber is a Certified Evidence Based EFT Practioner and Health Coach, with a double Masters Degree in Education. She works with people to overcome emotional eating, curb cravings, and overcome resistance to eating new healthy foods. You can learn more about coaching with her here.