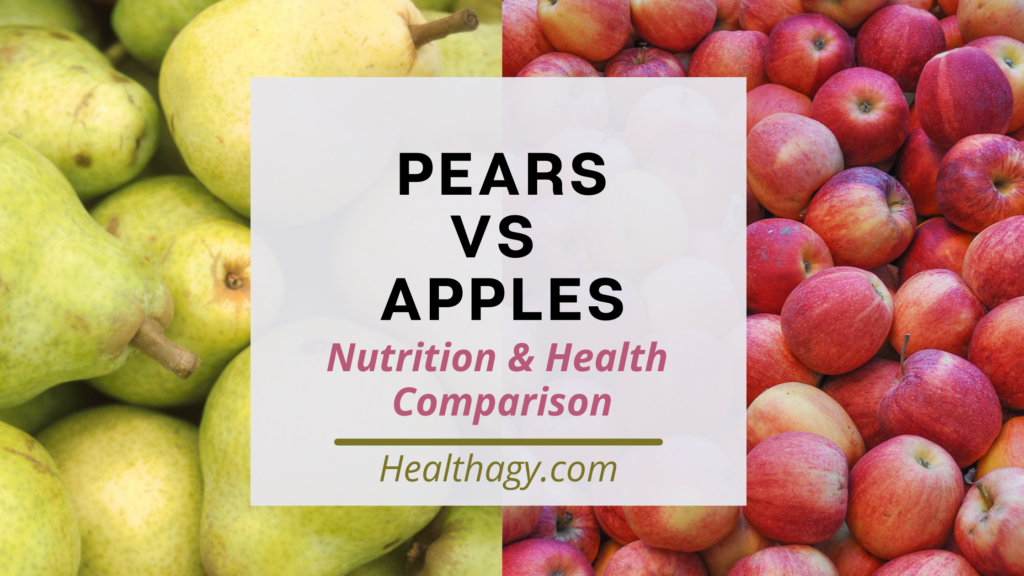 Pears and apples are two very popular fruits! Both make a healthy, easy snack on the go or make a great addition to juices and smoothies. While they are closely related and have many similarities, they have differences and contain different nutritional values and health benefits. Let's learn more about what nutritional and health benefits each of these delicious fruits offers.
Key Differences Pears vs Apples
The most significant difference between pears and apples is their taste. Nutritionally pears have slightly more copper and fiber, while apples have slightly fewer calories and more vitamin B6. However, none of these are very significant amounts, and they are considered to be equally nutritious.
Key Health Benefit Similarities Pears vs Apples
Both pears and apples were first cultivated in Asia, and both come from the same family, the Rosaceae family. They have many similarities, with neither being definitively better than the other. They are both excellent sources of fiber, antioxidants, vitamins, and minerals.
These tasty fruits are great at helping to satisfy a sweet tooth and are a great way to crowd out unhealthy snacks. Between the fluid/hydration of the fruit and the dietary fiber, they help you to feel fuller longer, which can help manage a healthy body weight and reduce overeating, which may result in weight loss and supports heart health.
Pears and apples are an excellent source of fiber, particularly soluble fiber, which helps promote digestive health, and regularity and reduce your risk of heart disease.
They have both been shown to have similar benefits when it comes to lowering cholesterol levels, lowering one's risk for a stroke, and developing diabetes.
Another great benefit apples and pears have is that they are both a good source of vitamin C. Vitamin C helps to support a healthy immune system. High blood concentrations of vitamin C are often attributed to a high intake of fruits. Each offers roughly 10% of the recommended daily intake, with apples offering just slightly more than pears.
People with high concentrations of vitamin C have been shown to have lower BMIs, lower blood pressure, and less inflammation, all linked to a lower risk for heart disease.
Nutritional Value Comparison: Apples vs Pears
Nutritional Profile Source
Gala Apple (1 medium apple, 172 g), %Daily Values
Bartlett Pear (1 medium pear, 177 g), % Daily Values (approximately 14 dates)
Calories
98
112
Total Carbohydrate
-Dietary fiber
-Sugar
-Added Sugars

23.5 g, 8%
4 g, 14%
17.8 g, 36%
0 g

26.6 g, 9%
5.5 g, 20%
17.2 g, 34%
0 g
Cholesterol
0 mg
0 mg
Protein
0.4 g, 1%
0.7 g, 1%
Total Fat
Saturated Fat
0.2 g, 0%
0g, 0%
0.3 g
0 g, 0%
Vitamin D
0 mcg
0 mcg
Calcium
18.1 mg
15.9 mg
Iron
0.2 mg
0.3 mg, 2%
Potassium
185.8 mg, 4%
178.8 mg, 4%
Phosphorous
18.9 mg, 2%
19.5 mg, 2%
Copper, Cu
4%
0.1 mg, 15%
Manganese
0.1 mg, 3%
0.1 mg, 3%
Thiamin, B1
2%
2%
Riboflavin, B2
4%
4%
Niacin, B3
0.1 mg, 1%
0.3 mg, 2%
Vitamin B5, PA
0.1 mg, 2%
0.1 mg, 1%
Vitamin B6
0.1 mg, 5%
0 mg, 3%
Folate, B9
5.2μg, 1%
10.6μg, 3%
Choline
5.8 mg, 1%
9 mg, 2%
Beta Carotene
18.9μg
24.8μg
Vitamin A
48.2IU, 2%
49.6IU, 2%
Vitamin C
8.2 mg, 12%
7.7 mg, 10%
Vitamin E
0.3 mg, 2%
0.2 mg, 1%
Vitamin K
2.2μg, 2%
6.7μg, 6%
The above comparison chart shows that there is no vast difference in nutritional values between pears and apples. In fact, they are quite similar, with minimal differences. Copper is one of the only nutrients that show a moderate difference, with a medium-sized pear containing approximately 15% of the DV compared to the 4% an apple offers.
A pear also offers a bit more fiber, with 5.5 grams of fiber or 20%, compared to an apple at 4 grams of fiber or 14% of the daily intake recommendation. However, if you are eating a well-balanced diet that includes other fruits and vegetables, you are likely to exceed the amount of fiber recommended daily.
What likely has the most significant impact on the fruit's nutrients is the produce's quality. Fresh fruits and vegetables that are organically and locally grown in nutrient-rich soil are the best quality produce to eat. They will always offer more nutritional benefits and often taste even more delicious than standard, conventional produce.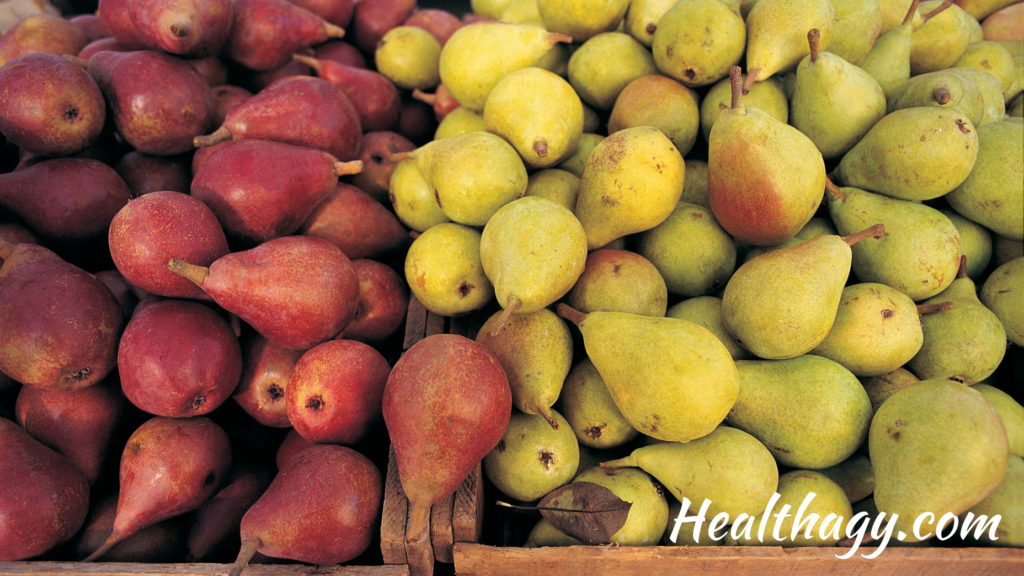 About Pears
While Barlett pears are the most popular type of pear in the United States, there are actually over 3,000 varieties of pears. Pears will vary in size, shape, crispness, and flavor depending on their type.
Some popular and common types of pears in the United States include bartlett pears, anjou pear, bosc pear, red pears, and Asian pears (also known as apple pears).
Health Benefits of Pears
Pears are rich in fiber and have been shown to be beneficial in supporting digestion and gut health, helping to improve digestion and support regularity. The fiber found in pears has also been shown to help reduce bad cholesterol, which can contribute to cardiovascular disease.
Pears have a low glycemic index ranking, combined with their high fiber content, which makes them beneficial in helping to manage diabetes and help regulate blood sugar levels.
Pears also contain many antioxidant properties, including vitamin C, vitamin K, and copper. All of which help fight free radicals, which are part of a great defense against aging and cancers.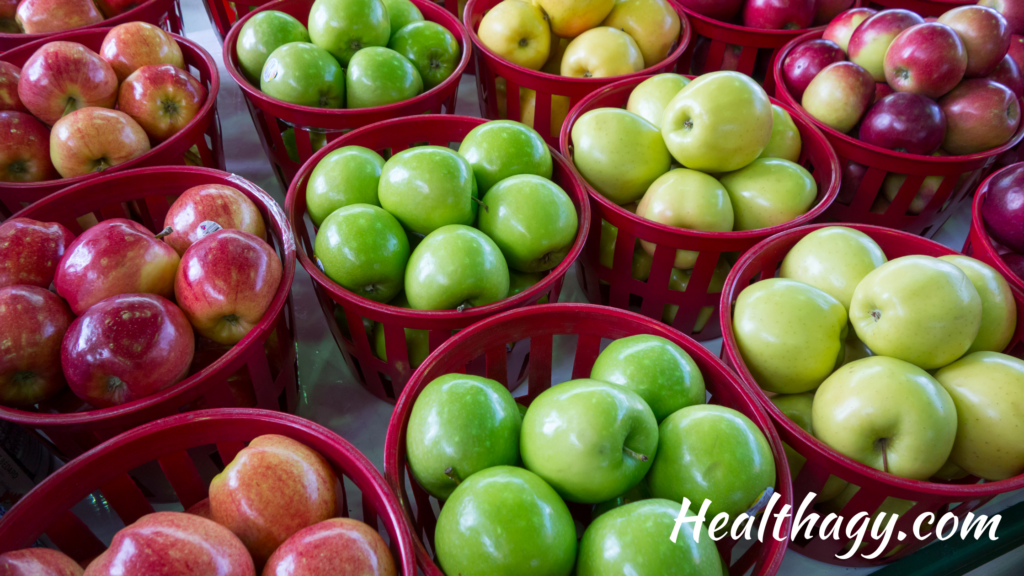 About Apples
Apples are one of the most popular snacking fruits in the United States. Did you know there are over 7,500 different varieties of apples?! Like pears, apples will vary in size, shape, crispness, and flavor depending on their variety and other environmental factors that impact how they are grown.
One of the keys to eating healthy is to make it easy and accessible. Apples make a great healthy snack and are easy to grab on the go. With so many different varieties of apples, you are sure to find a favorite yet have enough variety that you don't get tired of them.
Health Benefits of Apples
The old saying "an apple a day helps keep the doctor away" is a saying for a reason. Apples are a great source of fiber, and vitamin C. Fiber helps to support a healthy digestive tract, while vitamin C helps support a healthy immune system.
Like pears, apples also have a low glycemic rating. More specifically, my favorite, the tart granny smith apple, is one of the apples with the lowest sugar. Along with high fiber content, they make a great option for many people managing blood sugar levels and diabetics.
Antioxidants are incredibly beneficial to overall excellent health. Apples are a great source of antioxidants. They help us age gracefully and fight off free radicals, which help to fight off cancer and other diseases.
Key Takeaways
Both apples and pears are tasty types of fruit, making a great addition to any healthy diet. Since fruits contain natural sugar, many people find them most beneficial and easiest to digest on an empty stomach in the morning. Apples and pears both digest fairly quickly; to optimize digestion, they should not be eaten after a filling meal or foods that take longer to digest, such as meats and fats.
Apples and pears are both packed full of antioxidants, vitamins, minerals, and fiber, providing nutritional benefits to one's overall health.
Author Biography
Karla Kueber is a Certified Evidence Based EFT Practioner and Health Coach, with a double Masters Degree in Education. She works with people to overcome emotional eating, curb cravings, and overcome resistance to eating new healthy foods. You can learn more about coaching with her here.