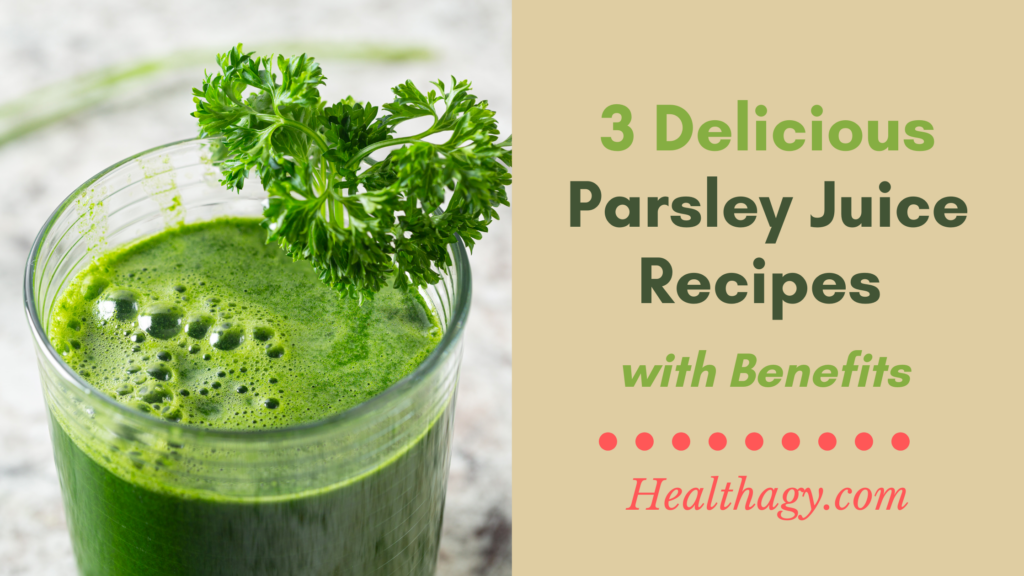 If you haven't been juicing parsley, you've been missing out! Parsley is one of my favorite herbs to juice as it offers many nutritional benefits. Juicing parsley and other fruits and vegetables is one of the best ways to flood your body with the vitamins and nutrients it needs to heal itself and function at its best.
Parsley is an excellent herb to add to almost any green juice or vegetable juice. It's versatile, and the green juice taste can easily be balanced by a sweeter fruit such as an apple. Parsley also blends in well with green vegetables like celery and cucumber juice. This post will share three of my favorite parsley green juice recipes and the powerful nutritional benefits parsley offers.
What is Parsley?
Parsley is a leafy green herb that is easy to grow in a home garden or can typically be found at the grocery store.
Parsley is known as a healing herb. It has been used for centuries as a natural detox remedy, natural diuretic, antiseptic, and for its anti-inflammatory properties.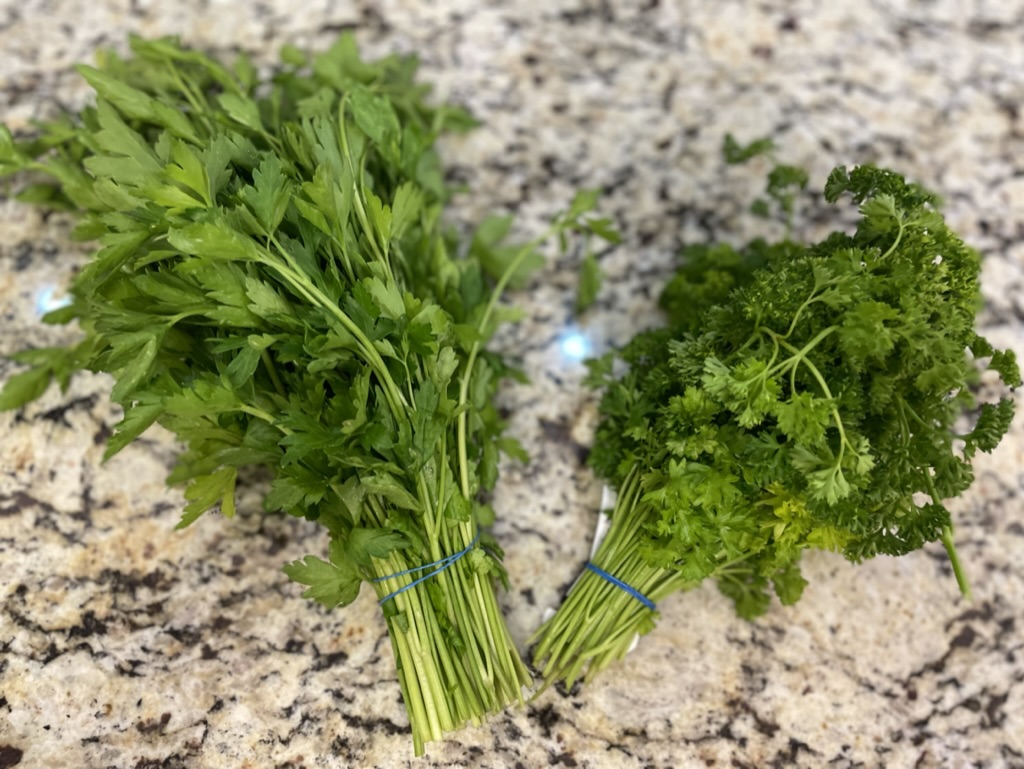 Parsley Taste
The two types of parsley that can be used in these juicing recipes are flat-leaf parsley and curly leaf parsley. Both have a similar flavor, a subtle, almost bitter green taste, with curly parsley being a bit more robust. However, when juiced and mixed with other fruits and vegetables, you likely won't notice a difference in taste between the two.
Health Benefits of Parsley Juice
Parsley has numerous health benefits. Juicing parsley is a great way to extract nutritional content in a way that allows for quicker digestion and absorption. Juicing also allows you to consume more vitamins and minerals from the juice than you would be able to through eating.
Parsley may help support the body with healthy digestion, a healthy immune system, nutrient absorption, kidney health, heart health, and regulating blood sugar levels.
As a natural diuretic, parsley can help draw excess fluids out of the abdomen to help reduce bloating.
Nutritional Profile for Parsley
Parsley has incredible health benefits and offers many vitamins and minerals. Parsley is known to be a great source of powerful antioxidants, vitamin A, vitamin C, vitamin K, and folic acid.
One cup of parsley, about one bunch or one larger handful of parsley, contains over 80% of vitamin C, over 800% of vitamin K, over 160% of vitamin A and about 20% of the DV for folic acid.
It also has anti-inflammatory, antifungal, and antibacterial properties.
Nutritional Value for One Cup of Fresh Parsley (55 g) Source
Nutritional Content
Nutrient Value
% Daily Value
Calories
22
Total Fat
– Saturated fat
-Trans fat
0.5 g
0.1 g
0 g
1%

Total Carbohydrate
-Dietary Fiber *
-Sugar
3.8 g
2 g*
0.5 g
1%
7%
1%
Protein
1.8 g
4%
Calcium
82.8 mg
6%
Carotene, beta
3032.4μg
28%
Copper
0.1 mg
10%
Vitamin A, RAE
252.6 μg
28%
Vitamin A, IU
5054.4IU
168%
Vitamin B5 (PA)
0.2 mg
5%
Vitamin B6
0.1 mg
3%
Vitamin C
79.8 mg
89%
Vitamin E
0.5 mg
3%
Vitamin K
984μg
820%
Folate (B9)
91.2μg
23%
Iron
3.7 mg
21%
Magnesium
30 mg
7%
Manganese
0.1 mg
4%
Niacin (B3)
0.8 mg
5%
Potassium, K
332.4 mg
7%
Phosphorus
34.8 mg
3%
Riboflavin (B2)
0.1 mg
5%
Sodium
33.6 mg
1%
Thiamin (B1)
0.1 mg
4%
Zinc
0.6 mg
6%
*Juicing removes the fiber from parsley
3 Healthy Green Juice Recipes
For all three of these recipes, it is recommended to use a slow juicer. Slow juicers run at slower speeds, so you get less oxidation and more nutrients. Adding lime or lemon juice, as each of these recipes calls for, also helps keep juice fresher longer while also providing cleansing and nutritional value of their own.
Go slow if you are new to green juices or parsley. Consider drinking small amounts or using less of any ingredient, like parsley, if it is new to your body in larger quantities. Parsley and other leafy greens and vegetables can have a detoxing effect, and you don't want to overdo it. I always recommend being gentle and listening to your body.
*Recipes will make around 16-20 ounces depending on the size of fruits and vegetables. Double the recipe for a larger serving size.
Go Green Parsley Juice Recipe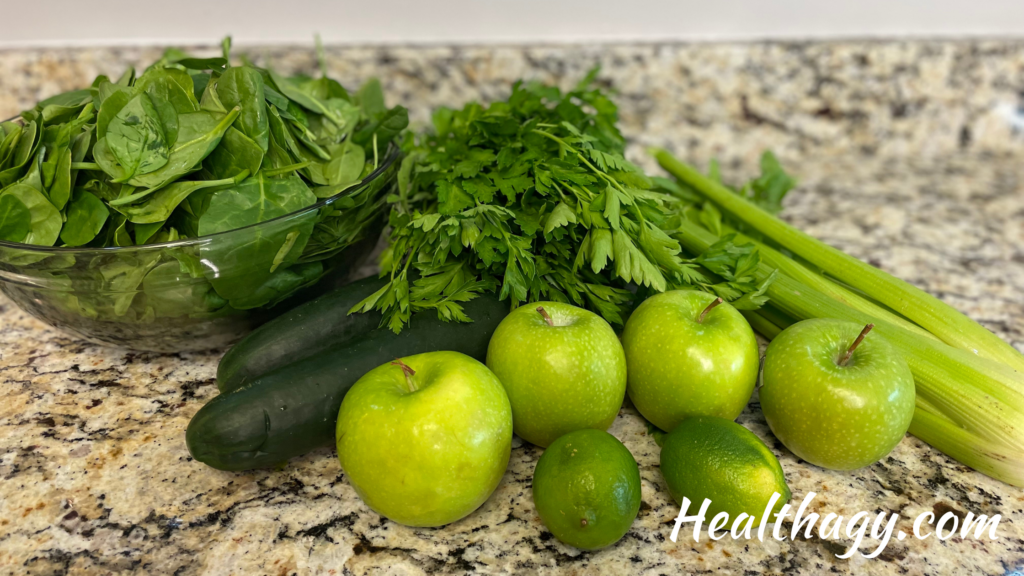 1 cucumber
5 celery stalks
2 handfuls of leafy greens, such as spinach or kale
1 handful of fresh parsley
1 green apple
1 lime juiced (or lemon juice)
This recipe is refreshing and detoxing. The cucumber, celery, and apple give it a refreshing, hydrating feel, while the leafy greens and parsley provide a bitter green dose of detox and nutrition.
What I love about this "Go Green" recipe is how the sweetness of the apple breaks up the "green" taste. If green juices are new for you or you just prefer a sweeter juice, you may want to add additional apples to balance the bitter taste of the greens.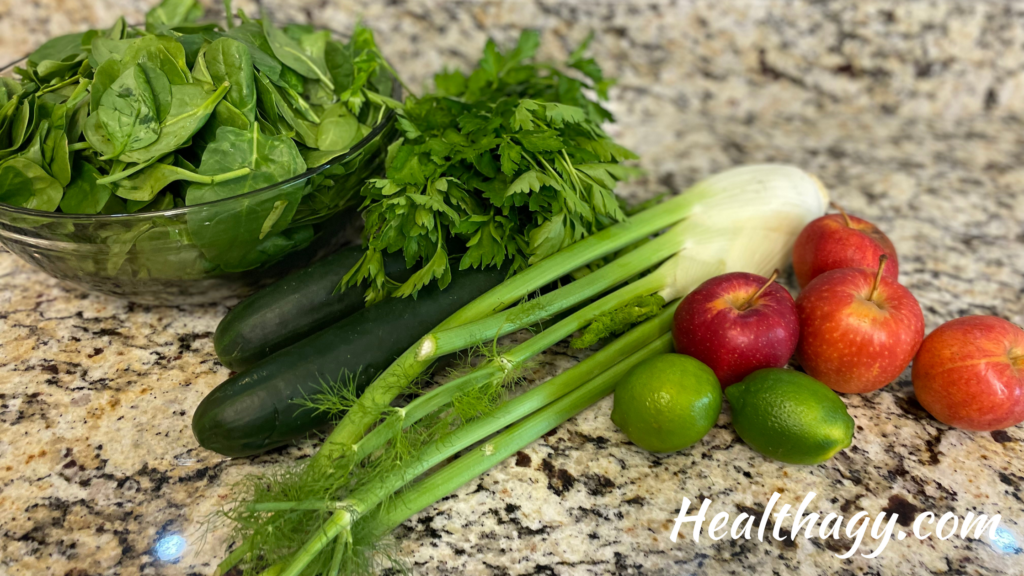 Fennel Parsley Juice Recipe
1 fennel bulb
2 handfuls of leafy greens, such as spinach or kale
1 apple
1 cucumber
1 handful of fresh parsley
1 lime juiced (or lemon juice)
I love juicing fennel. This is probably my favorite green juice recipe. Fennel is an incredible vegetable with many health benefits, such as it may help support a healthy heart, healthy skin, anti-inflammatory, and a great source of folate. Fennel has a mild licorice flavor and complements many green drinks.
I love using fuji apples in this recipe for added sweetness; add more if you like a sweeter juice.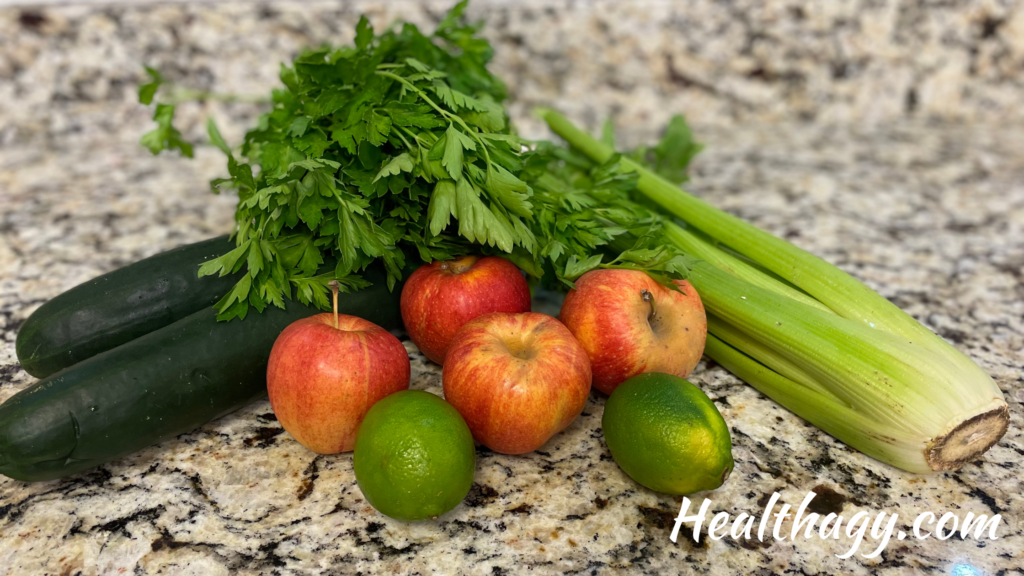 Simple Parsley Juice Recipe
1 cucumber
5 celery stalks
1 handful of fresh parsley
1 lime juiced (or lemon juice)
*optional- 1 or more apples
This is a simple and refreshing cleansing green juice recipe. The cucumber and celery are refreshing, while the parsley will add a healthy bitter green taste. If you would like to add sweetness, apples make a great addition.
Key Takeaways
Parsley can a great addition to any healthy green juice recipe. It is full of nutritional and health benefits. Acting as a natural diuretic may help the body help flush out bad bacteria and unwanted toxins. Which delicious parsley green juice recipe will you try today?
Author Biography
Karla Kueber is a Certified Evidence Based EFT Practioner and Health Coach, with a double Masters Degree in Education. She works with people to overcome emotional eating, curb cravings, and overcome resistance to eating new healthy foods. You can learn more about coaching with her here.