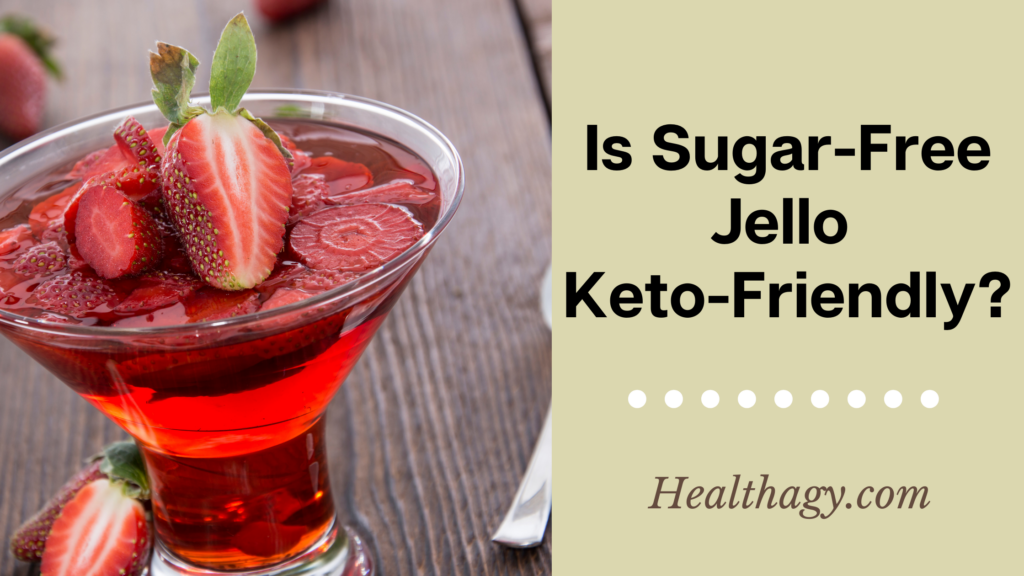 Sugar-free jello makes a great low-carb snack or dessert for people of all ages, but is it keto diet-friendly? Read on and we'll dive into everything you need to know, about sugar-free jello in regards to a ketogenic diet, including its impact on ketosis, if it is a clean keto food, and the benefits of jello.
Sugar-free may arguably be one of the best keto snacks to satisfy a fruity sweet tooth when you are on a ketogenic diet, but is sugar-free jello really a good choice if you are on a keto diet?
The good news is yes. Sugar-free jello is keto-friendly and a great treat for people on a low-calorie, low-carb diet. Sugar-free jello has zero carbs and has low calories, about 10 calories depending on the brand.
Keep reading and find out what kind of jello makes the healthiest keto dessert and how to reap the most health benefits out of this yummy keto snack.
What is Jello?
Jello is primarily made of gelatin. Although Jello or Jell-O has become a common household name for most gelatin desserts it technically belongs to the Kraft Heinz Company and refers to their specific gelatin product, Jell-o.
Jello can be purchased in stores in powder form or as a ready-to-eat snack. Or you can make your own gelatin treat at home using gelatin powder and a few additional ingredients.
Sugar-Free Jello and Ketosis
Sugar-free jello will not take you out of ketosis. Sugar-free jello typically contains gelatin, flavoring, and artificial sweeteners. Sugar-free jello does not contain any carbohydrates, which are needed to interrupt ketone production. However, as always you want to double-check the label, as ingredients can vary by manufacturer.
Sugar-Free Jello Nutrition Facts
Jello is primarily made of a gelatin mixture, containing gelatin and water. It may also contain salt, and different acids such as adipic acid as well as flavorings to give it a tart flavor. All of which are suitable for a keto diet.
One serving of sugar-free Jello is low in just about everything! It contains 10 calories, 0 grams of fat, 1 gram of protein, 0 grams of carbs 0 grams of fiber, and 0 grams of net carbs.
This may vary if you are eating another brand of gelatin.
What About the Artificial Sweeteners and Artificial Flavor?
Sugar-free Jello contains aspartame and acesulfame-K. If these are sweeteners you choose to avoid for whatever reason, you can find alternative gelatins that are sweetened naturally by other means. Jello may also contain artificial colors and flavors. Store-bought jello is processed and would be considered dirty keto.
If you are on a clean keto diet, the best option is to make your own gelatin dessert at home to ensure you are eating the best ingredients for your dietary choices.
Benefits of Sugar-Free Jello and Gelatin
There are many benefits to eating gelatin, far beyond the low calories and lack of carbs. Gelatin is high protein snack, making it a good source of protein. Protein is made up of various amino acids. While the variety of amino acids may vary based on the source of the gelatin, the most common amino acids gelatin contains are glycine, proline, and valine. Valine is not produced by the body and must come from foods.
Health Benefits of Gelatin Include:
Helps maintain body tissue
Supports the functioning of organs
May support gut lining, improving digestion
May decrease joint pain
May help manage blood sugar levels
Helps strengthen bones
It May help improve hair growth
May help curb appetite, supporting weight loss
Healthiest Sugar-Free Keto Jello Recipe
Jello is easy to make at home with a handful of ingredients. Making jello at home is an excellent option that ensures you are getting the best, highest quality ingredients without any artificial colors or flavors.
I love making a jello or gelatin recipe using beef gelatin collagen as it is high in protein and supports a healthy gut, making it a great snack that is jam-packed with nutritional value.
You can make a great keto jello recipe using a few simple ingredients. Choose your favorite low-carb fruit along with an optional sweetener, beef gelatin collagen and some hot water is all you'll need.
How to Eat Jello
Jello is a great stand-alone snack. Jello also pairs well with fresh fruit such as fresh strawberries, raspberries, and blackberries- all of which are popular low-carb fruits.
Jello can also be topped off with low-carb heavy whipping cream or mixed with whipped cream to make a keto jello mousse. Heavy whipping cream is a high-fat product with a low carb content, making it keto-friendly. However, make sure to check the ingredient list on the label for any added sugar.
Takeaway
Sugar-free jello makes for a great low-carb dessert for anyone on a keto or low-carb diet. While store-bought jellos may contain artificial ingredients. Making jello at home is an excellent choice for a nutritional, high protein, keto snack that is sure to satisfy your cravings.
Author Biography
Karla Kueber is a Certified Evidence Based EFT Practioner and Health Coach, with a double Masters Degree in Education. She works with people to overcome emotional eating, curb cravings, and overcome resistance to eating new healthy foods. You can learn more about coaching with her here.