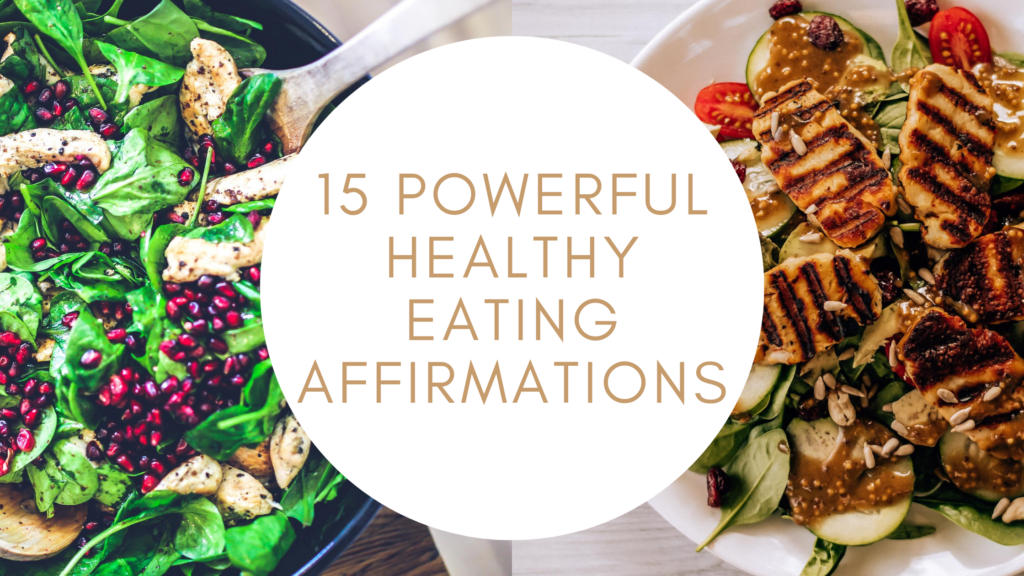 Healthy eating affirmations are a powerful way to embrace those new healthy eating habits you're working on.
Making the decision to eat healthier requires effort for the majority of us.  We all have a complex relationship with food that has been influenced by family, friends, society, culture, media, among many other things. In changing our habits, we are undoing years of conditioning and patterns of the past.  
In order to create new eating habits, we have to be willing to live in the present moment and make choices that support our health in the here and now. So often we eat based on the past habits we've had, what we ate growing up or foods that comfort our emotions. We often say to ourselves things like, this is just how I am, this is what I know, this is how my family eats, etc. In some form or another, these are all limiting beliefs.
Limiting beliefs keep us stuck and block change. 
In order to create healthier eating habits, we have to be willing to challenge our desire for what feels comfortable and familiar. Our limiting beliefs can keep us stuck even when we have goals for greater health. 
One way we can begin to recondition our habitual eating patterns is to re-train our minds is through healthy eating affirmations.
Affirmations can be any statement that works for you.  So often, we unknowingly feed ourselves negative affirmations about ourselves.  Using positive affirmations are a tool for retraining your brain away from those negative thoughts to positive thoughts.   When we use affirmations consistently, they become our beliefs.  
What your mind repeats, your mind believes. What your mind believes becomes your reality.
Healthy Eating Affirmations
I can do hard things
I'm choosing to fuel my body with nutrition.
I choose to love myself with nourishing foods.
I'm investing in my healing with nutritious and healthy foods.
Food is medicine, my body is healing.
Nourishing my body is loving my body.
When I eat good, I feel good.
With each meal, I'm choosing health, with each meal I am one step closer to my goal.
Food is nourishment
I choose to be a woman/man who honors my mind, body, and soul with healthy, nutritious foods.
Investing in my health is investing in myself.
I am willing to change my eating patterns.
I am willing to create a healthier future for myself.
Eating new foods comes with ease.
I am willing to let go of these old patterns and beliefs.
What is the best way to use affirmations?
The best way to use affirmations is whatever way works for you!  What your mind repeats your mind believes.  You can write your affirmations every morning in a journal.  Sing them to yourself in the shower. Put them on sticky notes and read them.  Add reminders to your phone. Look yourself in the mirror and express your new truth- this exercise can be extra powerful, give it a try and see what happens!
As you get going, remember change is a process and takes time. You are retraining your mind away from beliefs and habits you've had for years, maybe even decades or a lifetime. Change is possible. Every day is one step forward. Keep moving forward and believing in yourself. You are worth it!
Author Biography
Karla Kueber is a Certified Evidence Based EFT Practioner and Health Coach, with a double Masters Degree in Education. She works with people to overcome emotional eating, curb cravings, and overcome resistance to eating new healthy foods. You can learn more about coaching with her here.