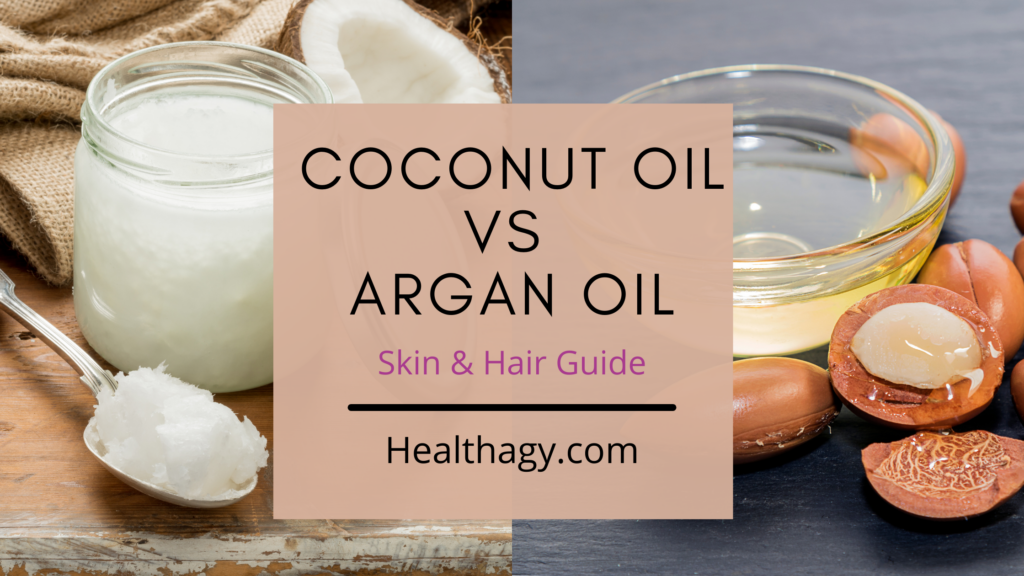 Coconut oil and argan oil are two time-proven natural oils that have been used for centuries as beauty products to keep hair and skin moisturized and healthy. Growing in popularity as non-toxic alternatives to commercial skin and hair care products. But what is the difference between coconut oil and argan oil? Which is best for your skin? Which is best for your hair? We'll answer these questions and more below!
Coconut Oil vs Argan Oil
The key difference between coconut oil vs argan oil is that argan oil can be used for most hair and skin types. Coconut oil can not. Coconut oil can clog pores, so it not recommended for oily or acne-prone skin types. Coconut oil is not recommended for dry or coarse hair as it could cause damage.
What is Coconut Oil?
Coconut oil is extracted from the flesh of the coconut. Coconut oil has been widely used in beauty for thousands of years, primarily in more tropical areas where they grow plentiful on palm trees.
It is one of the richest natural sources of lauric acid, together with caprylic acid help give coconut its antimicrobial and antiviral properties.
One of the great things about coconut oil is how versatile it is, in that it can be used in cooking, soaps, cosmetics, hair care, and medicinal care.
Coconut Oil Benefits
Coconut Oil for Skin
Coconut oil makes an excellent moisturizer for many skin types and can be used as a makeup remover- the one exception being those with an oily skin type or those prone to acne breakouts. Coconut oil can become greasy when too much is applied, so less is more. Too much coconut oil can also build up and clog pores- which is why it isn't recommended for oily skin or acne-prone skin.
Coconut oil also works well to repair the top layer of cracked skin and works as a protector of skin against harsh weather. It is best applied after a bath as it acts as a sealant, helping skin seal in and retains its natural moisture. Coconut oil has an abundance of vitamin E, making it such a great moisturizer.
Coconut Oil for Hair
Due to its antifungal and antibacterial properties, coconut oil is a great option when dealing with scalp issues such as a dry scalp, dandruff, or rashes. Coconut oil is known to help clear away dead skin, stimulate hair follicle growth, which can help hair growth and promote healthy hair.
Coconut oil can be used as a deep conditioner and it is great for taming frizzy hair, repairing brittle hair and split ends and can be helpful for people with slow hair growth. Using too much coconut oil can make it difficult to wash it all out of your hair, leaving an oily looking scalp, so tread lightly when using coconut oil, less is more.
While some oils are beneficial to almost any hair type, coconut oil is not one of those oils. Coconut oil helps hair retain its natural protein, which can be helpful if your hair lacks enough natural protein in its hair follicles. However, it can be harmful to certain hair types, leading to a protein buildup causing brittle hair.
Coconut oil works best on hair that is fine to medium hair. Coconut oil may actually do damage to coarse or dry hair by providing too much protein and may lead to more brittle hair and hair loss.
Tip: Adding another oil that is rich in monounsaturated fatty acids, such as olive oil or argan oil can create a gentler oil that doesn't seem to make hair brittle or dry.
*Note that coconut oil is not a safe choice for anyone with any sort of allergy or reaction to coconuts in general.
What is Argan Oil?
Argan oil, which is also called Moroccan oil is an oil that is extracted from the kernels of the argan tree. Argan trees are native to Morocco, where argan oil has been used for beauty care for centuries. Argan oil is a golden colored, smooth oil; referred to as "liquid gold."
Much like coconut oil, argan oil is now widely used for a variety of culinary, cosmetic and medicinal purposes.
Argan Oil Benefits
Argan Oil for Skin
Argan oil is a nutrient-dense light oil. And since it is non-comedogenic, meaning it does not cause blocked pores, makes argan oil one of the best go-to face oils. In this study, argan oil was noted to have anti-inflammatory properties, helping to improve wound healing and repair the skin's barrier. Argan oil is one of the most recognizable oils that are high in linoleic acids. Linoleic acid is the oil most recommended for acne-prone skin. And like coconut oil, argan oil high levels of essential fatty acids, and vitamin E, which help smooth and moisturize skin.
Argan Oil for Hair
Argan oil is great because it can be used daily to help keep hair healthy and shiny. Argan oil is easily absorbed into the hair. It is great for softening hair, adding shine, and helps tame frizz. Argan oil has antioxidant properties which help fight free radicals as well as protect hair from UV rays.
Argan oil can be used for most hair types and does particularly well with dry, brittle, frizzy or coarse hair that is regularly styled with heated tools.
Which is Better for Your Hair Coconut Oil or Argan Oil?
Overall argan oil is a great oil and an all-around better choice for everyday use on hair. You only need a few drops of argan oil to help smooth out your hair. You can use it daily to help detangle, add shine, and tame frizz, without your hair looking oily (as long as you don't overdo it). Not to mention it also has UV protection and helps keep hair healthy.
Depending on the type of hair you have, coconut oil can be a great addition on an occasional use on its own or mixed with another oil for a great occasional deep conditioner to help strengthen hair.
Which is Better for Your Skin Coconut Oil or Argan Oil?
I like that argan oil is also one of the best skincare oils available. It is nutrient-dense, light oil, and non-comedogenic, so it works with most skin types. Coconut oil can lead to oil build-up or breakouts for oily or acne-prone skin.
Coconut oil does have antifungal and antibacterial properties, which can be great to help with particular skin issues or for oil pulling. But for everyday use, argan oil is nice and lightweight and great for year-round use, even if your skin is a combination skin type or gets more dry or oily at different times of the year.
Conclusion
All around argan oil seems to be one of the best oils for hair and skin that you can have in your beauty cabinet. It's also nice that it works for both hair and skin, so you can travel lighter and have fewer beauty products in your cabinet- which may also help save some cash!
Read More:
Shea Butter Vs Coconut Oil, Which is Best for Your Skin?
Author Biography
Karla Kueber is a Certified Evidence Based EFT Practioner and Health Coach, with a double Masters Degree in Education. She works with people to overcome emotional eating, curb cravings, and overcome resistance to eating new healthy foods. You can learn more about coaching with her here.